Mental Health Commission Report 'must be taken as cause for serious action' - IHCA
By
dara
Wednesday, 26th July 2023
Comment by the Irish Hospital Consultants Association (IHCA) on today's (26 July) publication of the independent report by the Mental Health Commission into the Child and Adolescent Mental Health Service (CAMHS).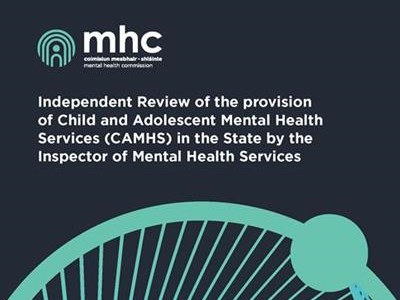 The Association said: "The report published today by the Mental Health Commission, the scale and severity of the findings and recommendations must be taken as cause for serious action. 
"Unfortunately, many of the findings are not surprising to those who are working within Ireland's mental health services on a day-to-day basis. We are trying to provide care in very complex and constrained conditions for young people who need care for urgent severe mental health crises – being able to ensure their timely assessment, care and follow-on monitoring is critical but incredibly challenging in the current environment. 
"Time and time again, Consultants and others in the service have raised the serious concerns about staffing and capacity shortages and highlighted the impact this has on young people's mental health and their ongoing care needs. Lessons are not being learned. 
"Meanwhile, the growing deficits are stark. Currently CAMHS funding is approximately 0.63% of the overall Health Budget, at just €125.18m. 
"Today's report confirms that the vast majority of CAMHS teams are significantly below the recommended staffing levels, some below 50% of recommended levels. Some of these services are missing a third of the required Psychiatry Consultants, as these permanent posts remain vacant or only filled on a temporary, agency, or locum basis. 
"There are only 51 CAMHS inpatient beds operational across the country at any one time, falling well short of the 130 beds recommended in the Government's 'Vision for Change' strategy. 
"The very fact that our benchmarks for staffing and bed levels are rooted in a 17-year-old mental health policy, also points to a lack of priority given to addressing this issue over the past decade and more.
"The current approach is simply not good enough and is failing our youngest and most vulnerable patients. Our priority must be ensuring all our young people have the best chance of a good quality of life, whether they require lifelong treatment to make that happen or not – this should be the goal of our national health policy. 
"There are many strands that have to come together, involving all pillars of the health system – GPs, Consultants, Allied Health Professionals - to ensure these highly vulnerable patients are cared for as required. 
"Our hope is that this report drives such a collaborative, whole-of-service approach to ensuring an end-to-end care pathway under the oversight of dedicated clinical leadership for CAMHS."
ENDS
Media contacts – 360, A FINN Partners Company:
Lauren Murphy | lauren.murphy@finnpartners.com | 083 801 5917
Amy Couch | amy.couch@finnpartners.com | 085 816 6122