IHCA Statement on Sunday Business Post Revealing Article.
By
Sunday, 16th June 2019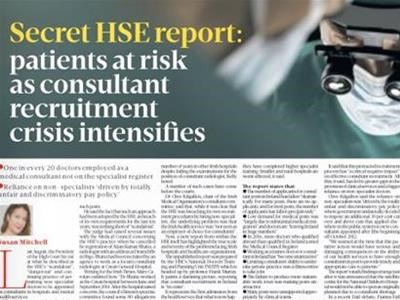 The Irish Hospital Consultants Association (IHCA) said the findings of the unpublished HSE's National Doctors Training and Planning (NDTP) unit report, as confirmed in today's Sunday Business Post, are a damning indictment of the government's policy which has undermined hospital consultant recruitment. This is of significant importance as it is gravely damaging the delivery of timely care to patients.
"The HSE report confirms that the consultant recruitment crisis is the root cause of the extensive patient safety and care concerns throughout our acute hospital services," said IHCA President Dr Donal O'Hanlon.
The report confirms that 1 in 20 doctors employed by the HSE is not on the Medical Council specialist register. This is a fundamental and serious breach of the HSE's recruitment rules and the Medical Practitioners Act, 2007. Justice Peter Kelly, President of the High Court, wrote to the Minister for Health and health service management in May 2018 to outline his serious concerns about this practice. "This has jeopardised and continues to jeopardise patients' safety," he stated.
The HSE report also confirms that the number of applicants for consultant posts has fallen dramatically. The government has been aware of this for many years but has ignore it and the inherent risks for patients. The Public Appointments Services statistics confirm that over one third of advertised Consultant posts were unfilled in the three years up 2017.
"Ireland has one of the lowest number of approved medical specialists on a population basis in the EU, at 1.39 per 1,000 population – 43% below the EU average. In addition, 1 in 5 of the permanent Consultant posts cannot be filled due to the Government's persistent policy that is driving our highly trained much needed specialists abroad," said Dr O'Hanlon.
"The record numbers awaiting hospital outpatient appointments is due to the fact that around  1 in 5 permanent hospital consultant posts in our acute services are either unfilled or filled on a temporary basis," added the IHCA President. With nearly 500 unfilled permanent consultant posts, it is not surprising the outpatient waiting list reached an all-time high at the end of May this year, with 556,411 people waiting to see a hospital consultant. This is an increase of almost 5,000 in just one month and an increase of over 200,000 in five years.
Last week the IHCA launched its #CareCantWait campaign to highlight patients' continuing lack of access to acute hospital care and increasing waiting times for consultant appointments.
For further information, contact
Julian Davis
FleishmanHillard
086 2531269
16 June 2019