New Medical Council report further evidence of consultant recruitment crisis – Irish Hospital Consultants Association
By
dara
Friday, 4th December 2020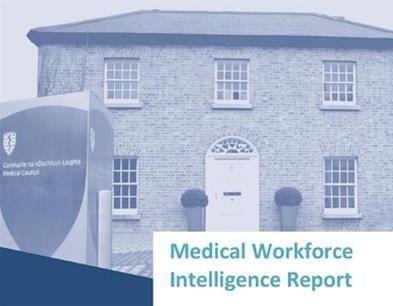 In same week HSE confirm 728 unfilled permanent consultant posts, Medical Council report finds:  
453 specialist doctors left the profession in just 20 months — averaging 23 per month; 
A quarter of all doctors who voluntarily withdrew their registration were specialists;
70% of those who withdrew from the medical register cited plans to work in another country;
60% of doctors consistently working over 40 hours a week; 28% work over 48 hours;
Ireland has lowest number of specialist doctors in EU; 
"At a time when we need more doctors, we're losing them" — IHCA President, Alan Irvine 
The Irish health system is losing 23 specialist doctors a month at a time when over 612,000 patients are waiting for a consultant appointment, the Irish Hospital Consultants Association said today. 
The IHCA was commenting following today's publication by the Medical Council of its Intelligence Report which shows that 453 specialists left the profession in the 20 month period January 2019 to August 2020. The Medical Council report also found that 25% of those who withdrew their registration were specialists, while 70% of those who withdrew cited plans to work abroad. At 1.49 per 1,000 population, Ireland has the lowest number of specialist doctors in the EU.  
Reacting to today's report, the IHCA said it was further evidence of the recruitment and retention crisis of doctors and consultants in the Irish health system.
The report comes the same week as new HSE figures showed that 728 permanent consultant posts in Ireland are now vacant or filled on a temporary, locum, or agency basis. The findings come at a time when over 612,000 patients are currently waiting for a consultant appointment in Ireland, with 255,000 of these people waiting for more than a year. 
The Medical Workforce Intelligence Report found that just over one-third of doctors who left the Irish register in 2019 were graduates of Irish medical schools, and almost a third of these left the Specialist Division. 
Among the reasons cited by doctors for voluntarily withdrawing from the Specialist Division were: excessive working hours; lack of employer support; earning more abroad; limited career progression opportunities in Ireland; retirement; and family/personal reasons.
The IHCA is also concerned over the growing General Division and attrition resulting from a lack of access to training and poor working conditions, which is feeding the cycle of poor retention and impacting on recruitment at consultant level. A failure to retain a skilled, specialist medical workforce also has a knock-on impact on those coming through to be trained, it stated.
The report worryingly found that of those on the register, clinical active and working in Ireland, 60% said they were working more than 40 hours per week with almost 28% regularly working over 48 hours. Broken down by division, 53% of doctors on the Specialist Division are working over 39 hours and 23% are working more than 48 hours cumulatively.
Commenting on today's Medical Council report, IHCA President Prof Alan Irvine, said: 
"At a time when we need more specialist consultants and doctors, we are losing them. The loss of these highly trained specialists to the health service, together with the continued overreliance on non-training posts and agency or locum staff is a core reason why we have lengthening patient waiting lists and 728 approved permanent consultant posts unfilled on a permanent basis.
"Despite Ireland producing the highest number of medical graduates in the OECD, we are still experiencing significant vacancies. 
"One in five permanent consultant posts cannot be filled. Public hospital and mental health services can ill afford to have 728 permanent consultant posts unfilled, especially as the country has the lowest number of specialists in the EU on a population basis. 
"These vacancies have resulted in an excessive workload being carried by understaffed medical teams and growing waiting lists.  This is even more pressing now in view of the backlog of patients on waiting lists who require urgent assessment and treatment due to the ongoing Covid-19 pandemic. 
"Such excessive workloads for consultants and medical staff can lead to physician burnout, which in turn can have a significant impact on patient safety. In sectors where excessive working hours are a serious safety issue, such as the airline industry, strict regulations and appropriate staff numbers are in place, as the impact of fatigue and excessive workload is a recognised safety concern. The health service needs to ensure that its consultant staff are not overburdened and overstretched by the growing demand for care combined with the inability to fill consultant posts because of a failed Government policy that is driving our much needed specialists abroad.
"This is the latest of the mounting evidence of the crisis in consultant recruitment and retention. Report after report is pointing to the problem, which can be largely traced to the 2012 decision to pay newly qualified consultants less than their peers. 
"Clearly, in order to achieve health workforce self-sufficiency, competitive salary packages are required to enhance recruitment and retention, alongside moves to generate sufficient numbers of graduates and trainees.
"To fix this problem and end wasteful knee-jerk expenditure, the Minister for Health and Minister for Public Expenditure and Reform need to urgently prioritise this issue. 
"If we remedy the 2012 consultant pay disparity issue, we can halt the loss of these talented professionals and start to bring waiting lists down."
ENDS